Office/Corporate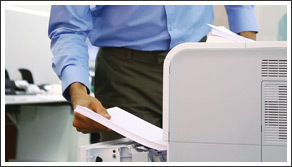 Corporate logo colors – impressive presentations – image is everything in today's world. Providing your clients with clean, professionally bound reports and presentations shows them you mean business!

There are many choices available for today's corporate clients that enable them to print and bind all types of material. Product manuals – employee policy handbooks – agenda planners - quotations – presentations – the list is endless.  Any time you need to combine more than 2 sheets of paper – Bind America is here to make your job easier and help you look good!

You've got lots of options. Coil binding is one of today's most appealing choices – with 45 different colors all readily available. Coordinate with your corporate logo or color code according to specific editions. With diameters up to 50 mm (2 inches), coil binding can handle almost anything.

Double loop wire binding is another option. When you need aligned straight registration when the report or planner is opened up, then double loop wire binding is your best bet.

Comb binding has been around forever. With a comb binding machine, it's easy to re-open the binding to add or remove pages from your report or presentation. Although not as durable as coil binding for a frequently referenced manual or report, the comb binding will still provide a nice finished appearance.

Working with Bind America's pre-punched paper allows you to simply load your printer and print your report, eliminating the need for a paper punch machine. You can then select one of our binding machines for the binding of your choice and away you go.